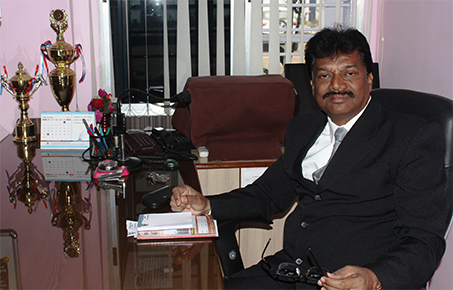 A marine biologist put a shark into a big tank at the time of a research experiment. Followed by that, he released some tiny bait fishes in. As expected, the shark didn't wait to attack those fishes and ate them. Later, a clear fiberglass was inserted into the tank which partitioned the tank into two and the shark remained in one side. A similar set of bait fish was sent to the other side of the tank like before. And the shark attempted to attack those fishes but failed by hitting on the fiberglass. The shark attempted for several days until it gave up. Later, the biologist removed the glass from the tank but the shark didn't try to attack the small fishes.
The point of sharing the above piece is the takeaway that it is quite common for students to give up after setbacks and failures. However, success resides in trying always and not giving up despite multiple failures. We need to stop letting false barriers restrict our scope of discovery.
We as a school are a testimony to the advantages of such a mind-set. With brilliant academic, co-curricular and extra-curricular results, our students have shown that application of a "never give up" attitude is the key in accomplishing goals, ubiquitously, in all walks of life. A loud shout out to my exemplary students, talented and motivated teachers and the committed support staff for making De NobiliSindria praise worthy working unit!
We at De NobiliSindri,are aiming to develop such a mindset among all our students. The ultimate aim of the education system is to prepare students for life. Education empowers them to discover their potential and equip them with skill sets required to face the challenges of future. Education is the foundation on which a country is built. Education helps in seeing that barriers don't exist in this technology driven era and hence success merely lies in not giving up! That isn't much to ask for is it?
The educational needs of today are different from that of the past because of growing competition, progress of science and technology and globalization. The capricious world of technology has made quantum leaps and has touched virtually every aspect of our lives and ever beyond it may be. It has now overlooked the education system. It has found its way into the classrooms for learning and teaching process as well. Things such as smart boards enable teachers in integrating the interactivelearning quotient with a wide range of software applications and tailor-madestudy material. The tools not only enrich the classroom experience but also help expand the nature of content that can be used in learning. De NobiliSindri is a standing testimony of this progress!
However, just as any other phenomenon, there are hiccups in what might look seamless. The pitfall of technology is the growing use of electronic devices which are readily accessible to our children hence causing considerable harm to the younger generation. Technology has direct implication on education be it positive or negative. Excessive use of electronic devices is becoming a distraction for students and is wasting their time causing stress, anxiety, lack of concentration and sleep, contributing to negative academic performance. Social platforms have become such a risk to the mental health of young mind. It irks my heart to see children become prey to things such as blue whale challenge, momo challenge, so on and so forth. It is extremely important to safe guard our children.
I sincerely request the parents to carry out random checks of text messages, social media portfolios and other content that children have daily access to. Help them in understanding what is safe and the risks of chatrooms and communications with individuals they have never met before. Parents must decide the right age to get their children integrated with technology, set rules for its usage, constantly monitor content, excreta.
In order to accomplish greater targets and taking our students to the highest potentials, the parents, children and the school (We) need to work together! Let us commit ourselves to pave a path for excellence and create an ecosystem in which the need to keep trying is a daily driver and not just an option.
I am excited for the future of De Nobili Sindri and what awaits in it. Are you? Well, you surely should be!
I would like to congratulate the entire editorial board for their hard work and coming out with yet again a marvelous annual school magazine.
Warm regards,
Chandra Shekhar Francis